All-In-One Property Management System for
Bring more guests, avoid costly commissions and run your property more efficiently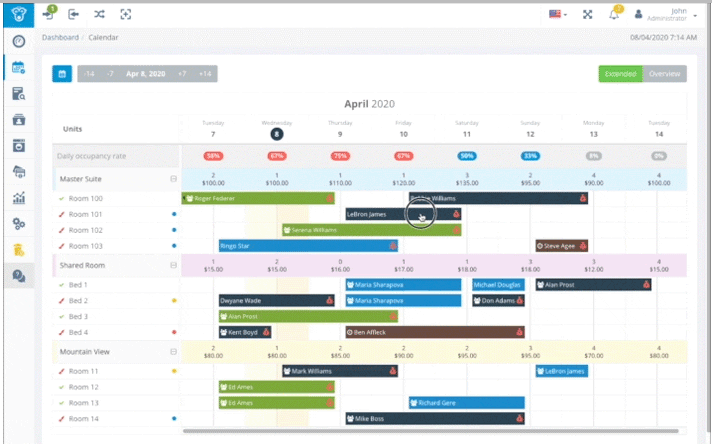 Simple.Powerful.Fast.Secure
CongoDesk is a cloud-based Property Management System for Small Hotels, Hostels, Vacation Rentals, and Bed & Breakfast.
CongoDesk was developed using top-notch technologies making it fast, reliable and extremely secure. The app is fully web-based, so forget about software downloads, installs, and costly updates. All you need is an internet connection, a web browser and you can start taking full control of your property at anytime, anywhere.
Start managing your property like pro with our easy to use and feature-rich app! Save time, reduce errors, automate tasks, reduce no-shows and keep bookings automatically synced and up-to-date with all connected third party OTA's and travel sites to avoid over-bookings.
Core Features
CongoDesk is packed with great features that will help you run your property with ease.
Automate some of those boring day-to-day task that take so much of your time and focus on what really matters!
FrontDesk
Manage your property like a pro! Create and manage bookings, add guest, extras and much more. Configure your property to do less work and achieve more!
Commission-Free Booking Engine
Accept commission-free bookings and payments 24/7 with our Multi-Language & Multi-Currency mobile-friendly Booking Engine.
Channel Manager
Sync all third party OTA's and Travel sites using myAllocator and CongoDesk and manage all bookings from one place. Reduce over-bookings!

Online Payments
Receive online payments through the booking engine before the guest arrives. No-show? No problem! The money is in your hands.
Guest Profile
Access any data from previous guests, see statistics, previous bookings, attach documents or leave internal and encrypted notes.

Housekeeping Management
Manage your housekeeping team, assign rooms to a certain housekeeper, set priorities based on your needs, add notes and much more.
Reports & Statistics
Generate easy to understand reports by type and date. Track sales, occupancy rate per month, bookings by source and much more.

Invoicing
Automatically generate custom invoices with your property and guest details. Download as PDF or send it via email to your guest.
Multi-Language & Multi-currency
No more calculators! Our currency exchange tool will do all the math for you. Our FrontDesk and Booking Engine supports both English and Spanish.
Users & Custom Roles
Create as many user accounts as you need for your team. Set up custom roles and take full control of what each user can access.

Data Export
If you need to download some information for off-line use, you can export certain data in an Excel format.

Automatic Backups
Protecting data is a must! For safety, we automatically backup all your data and store it on several servers and in different locations.
Pricing
Pay-as-you-go! No contracts, no hidden fees!
5
¿Cuántas habitaciones/unidades privadas tiene su propiedad en total?
0
¿Cuántas camas en total en dormitorios compartidos tiene su propiedad?
¡Pague anualmente y obtenga un 10% de descuento!
Frequently Asked Questions
If you have any concerns or questions please take a look at our FAQ section, you may find your answer.
What types of accommodation properties can use CongoDesk?
CongoDesk offers a wide range of features and settings making it flexible to work with Small Hotels, Hostels, Motels, Lodges, Guest Houses, Vacation Rentals, Bed & Breakfast and pretty much any other accommodation property type.
How hard is it to set up and use CongoDesk?
Quick & Easy! One of our main goals was to create a powerful, but user-friendly Property Management System easy for everyone to use and understand. As far as the setup time goes, there isn't much to it. Add your property's information, set up rooms, rates and a little more and you'll be up and running. We'll be here to guide you through the process if you have any questions.
Do you offer a free demo of CongoDesk?
Yes! We offer a 30-day free trial without any restrictions. Play around with all the features and settings and if it fits your needs you can activate your account at any time.
Ready to get started? Start your Free 30-day trial now!
How much does CongoDesk cost?
We offer multiple plans to choose from and the pricing will vary depending on the number of rooms/beds your property has.
To calculate the cost for your property please head over to our Pricing calculator.
Are there any contracts?
Absolutely not! You can use CongoDesk for as long as you want. If you decide you no longer need it, you can cancel your subscription at any time free of charge.
Do I need to download any software to use CongoDesk?
No. Our application is fully web-based, which means it will work on any device (PC, Tablet or Mobile Phone) that has a web browser and an internet connection.
Can I control what my staff can do and access in CongoDesk?
Absolutely! You can create unlimited users and set custom roles taking full control of what each user is allowed to access.
You're in good hands!
Here is what some of our happy clients have to say about CongoDesk.
Love it! I've tried multiple property management systems and they are all too complex, hard to use and require so much time and clicks to perform basic everyday tasks.
With Congodesk I can now create and manage bookings through the drag n drop calendar with just a few clicks. Could't ask for more!!!
Since I started using CongoDesk I have saved so much time by automating certain time-consuming tasks that previously had to be done manually on a daily basis. I have also increased the number of bookings by using the CongoDesk booking engine.
Super happy and highly recommended!
CongoDesk is a perfect fit for our Hostel. We hire many volunteers that come and go all the time and we needed a PMS that was easy to use for everyone in our team.
Now it's a piece of cake, pretty much self explanatory and their help support is great.
Ready to get started?
Start your 30-day free trial today! No restrictions, no commitments!